St. Agnes Eve
Posted January 19, 2017
This week brings an important day—January 20.
No, I am absolutely not talking about politics, but something far more important—romance.
January 21 is the Feast of St. Agnes, which means that January 20 is the Eve of St. Agnes, an important day for young women and their dreams.
And why is that?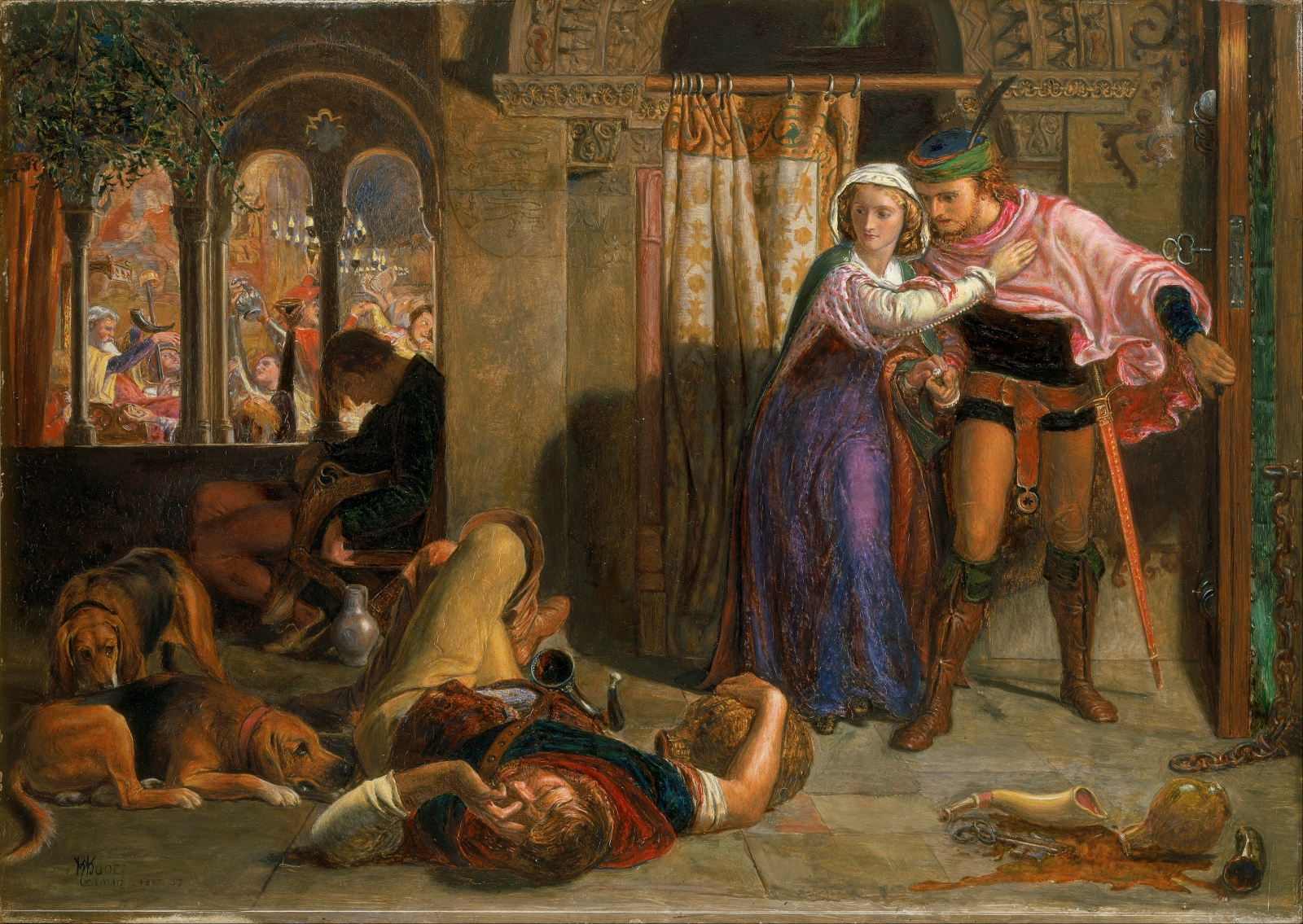 Long ago, when I was in high school, one of the poems we read was Keats' "The Eve of St. Agnes."
I adored it.
If the poem was in your high school English class too, you no doubt remember it—a wildly romantic poem about two lovers. They end up together, fleeing into the night, while an enchantment has put everyone in the castle to sleep. That's the scene in this William Holman Hunt painting. (The PreRaphaelites liked Keats.)
Before that, the poem begins with an ancient superstition about dreaming of your true love. You had to fast all day and then lie flat on your back to sleep.
All through my teens my friends and I kept planning to try it, but none of us ever remembered the date soon enough. And since I have been married to my true love for a good many years now, I no longer need it.
However, if you decide you might like to try it, Mother Bunch's Closet Newly Broke Open, an old (the first part goes back to at least 1685) book of spells and charms, describes the ritual:
There is, in January, a day called Saint Agnes's Day. It is always the one and twentieth of that month. This Saint Agnes had a great favour for young men and maids, and will bring unto their bedside, at night, their sweethearts, if they follow this rule as I shall declare unto thee. Upon this day thou must be sure to keep a true fast, for thou must not eat or drink all that day, nor at night; neither let any man, woman, or child kiss thee that day; and thou must be sure, at night, when thou goest to bed, to put on a clean shift, and the best thou hast the better thou mayst speed; and thou must have clean cloaths on thy head, for St. Agnes does love to see clean cloaths when she comes; and when thou liest down on thy back as straight as thou canst, and both thy hands are laid underneath thy head, then say
Now good St. Agnes, play thy part,
And sent to me my own sweetheart,
And shew me such a happy bliss,
This night of him to have a kiss.
And then be sure to fall asleep as soon as thou canst, and before thou awakest out of thy first sleep thou shalt see him come and stand before thee, and thou shalt perceive by his habit what trademan he is; but be sure thou declarest not thy dream to anybody in ten days, and by that time thou mayst come to see thy dream come to pass.