A scandalous child of the Regency
Posted July 12, 2021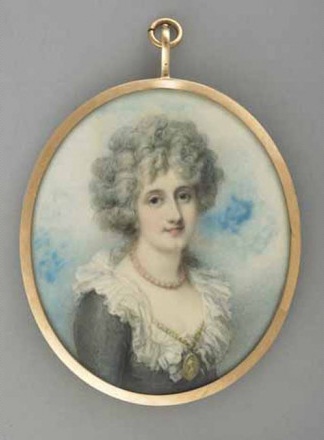 The story is true, even if it sounds as if it's snatched from the supermarket tabloids.
Maria Emilia Fagnani (1771-1856), known to her friends as Mie-Mie, was the daughter of Costanza, wife of Marchese Giacomo Il Fagnani.
While traveling, Costanza and her husband met Henry Herbert, Earl of Pembroke. Costanza began an affair with Pembroke and returned to England with him in 1769. There she met William Douglas, Earl of March, who managed to be both one of the richest men in England and a notorious gambler, and shortly began an affair with him.
When she gave birth to a daughter, Maria Emilia, March acknowledged the child and turned to his friend Charles Selwyn, who took charge of the infant, bringing her up as his own daughter. (From the BBC History Magazine: "George Selwyn, a necrophiliac, gay transvestite, sat mute, loved, and undisturbed in the House of Commons for 44 years.")
Shortly thereafter, Costanza reunited with her husband who recognized Maria Emilia as his own but left her with Selwyn while the Fagnanis returned to Italy. A few years later, Costanza's inlaws wanted the child returned to Italy and eventually Selwyn was forced to hand her over.
Then, after Costanza's father-in-law died, Selwyn managed to get Mie-Mie back and made her his heiress. The Earl of March, later the Duke of Queensbury, also left much of his fortune to her.
In 1798, Mie-Mie married Francis Seymour-Conway, Earl of Yarmouth, one of the most notorious libertines of the Regency period. (Thackeray used him as the model for the Marquess of Steyn in Vanity Fair.)
They had three children, but after the birth of the third, in 1805, she moved to Paris and lived there for the rest of her life.