Another Soup of the Evening
Posted January 11, 2017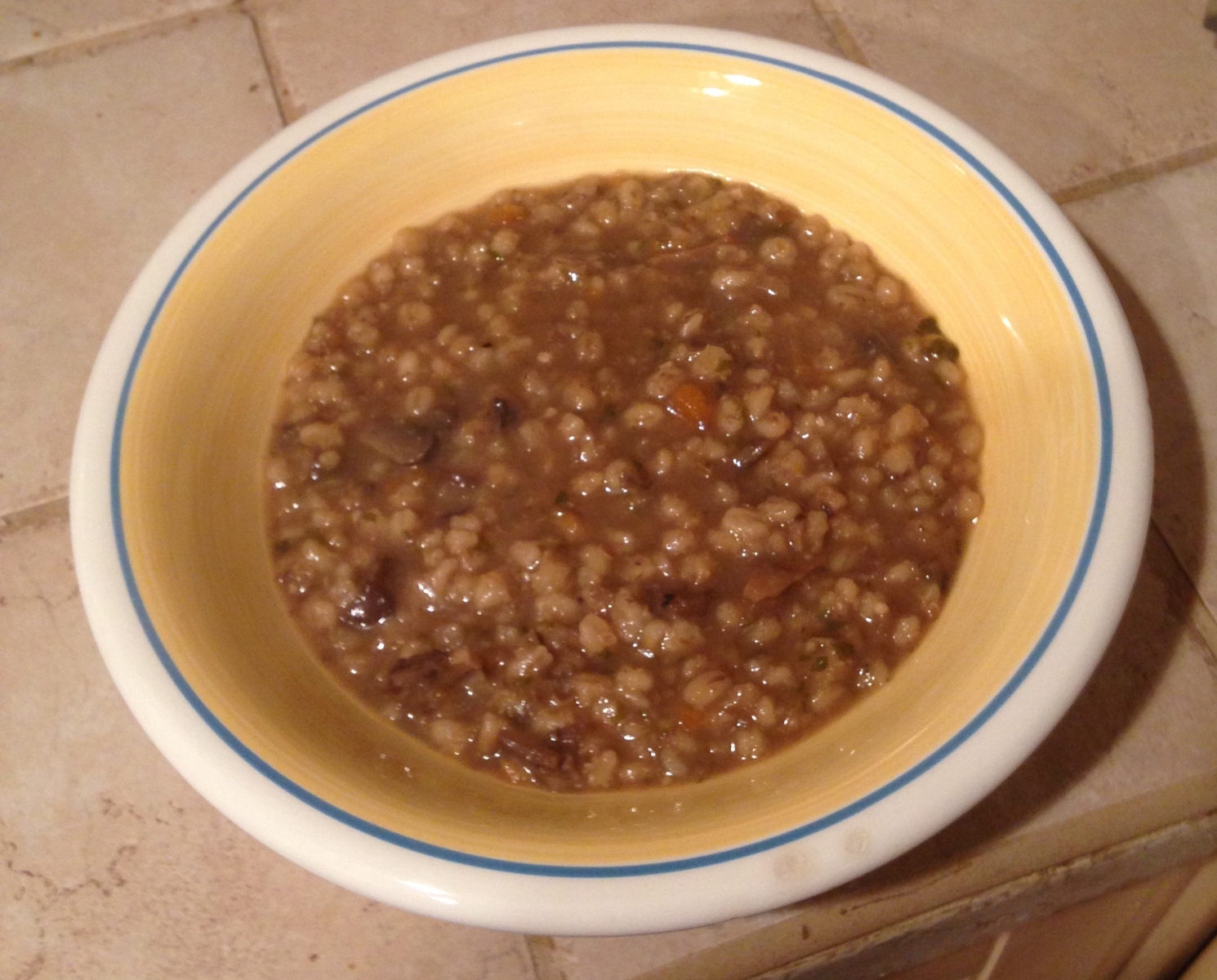 I haven't been blogging in quite a while, being busy with other things, like making up stories to tell. But I kind of miss blogging, and since I spent many years writing a cooking column, I thought I might do some of my blogging about food. After all, no matter how involved I get in writing, I still have to eat—and so does my family.
Lately it's been cold and snowy around here, which means it's been a good time to have thick, hearty soup for dinner. One of my favorites is mushroom barley soup—a good stick-to-the-ribs dish to make for the one who has to go out and shovel snow while I stir the pot.
You can, of course, vary this considerably. You can add more vegetables, more garlic, or change the seasonings—it's good with dill instead of marjoram, and paprika would probably be good too, though I haven't tried that. If you want to keep it vegetarian or even vegan, use oil and vegetable broth or water. If you want to make it nonvegetarian, you can dice some leftover beef and toss that into the pot.
Someone once told me that she tried this but didn't really care for it because she doesn't like mushrooms. Why someone who doesn't like mushrooms would make mushroom soup, I do not know.
It takes all kinds.
Mushroom and Barley Soup
½ ounce dried mushrooms
hot water
2 tablespoons butter
1 large onion, thinly sliced
2 ribs celery with leaves, diced
1 large carrot, diced
1 clove garlic, minced
1 pound fresh mushrooms, sliced
8 cups broth or water
1 tablespoon chopped parsley
1 teaspoon marjoram
1 cup whole barley
salt, pepper
Soak the dried mushrooms in very hot water for about half an hour or until they are soft. Lift them out and strain the water through a very fine seive or something like a coffee filter. Reserve the liquid and chop the mushrooms.
Melt the butter in a large pot and cook the onion, celery, carrot, garlic and fresh mushrooms until they are soft. Add the broth, the reserved mushroom liquid, parsley, marjoram, barley, and salt and pepper to taste. Simmer, covered, for about an hour until the barley is tender and the soup has thickened.
Like most soups, this reheats just fine, but you may need to add more broth or water because the barley absorbs more liquid as it sits.